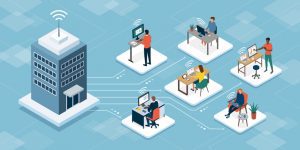 After a year as turbulent as the past one was, it is interesting to see the latest trends identified in the world of new technologies, the momentum of which has been key to continuing to maintain the business fabric worldwide.
It was the year of teleworking, of setting up solutions to enable employees to work from anywhere provided they have adequate speed and a secure connection, and it highlighted the need for operational resiliency – allowing companies to have the necessary flexibility to continue to operate in the face of changes in the market and living situation.
Linked to operational resiliency, one of the new concepts that has emerged is "Anywhere Operations". Just as options have been sought so employees can carry out their work securely and effectively from any location, there are aspects of the business organization that must be taken care of to allow companies to continue offering goods or services in the most transparent way possible.  The concept of anywhere operations refers to an IT-based operating model aimed at supporting consumers wherever they may be located, enabling employees to work from wherever they want, and managing the deployment of new business services across architectures that – by necessity – must be distributed to guarantee service availability. The phrase that serves as the basis for this new operational paradigm is "digital first, remote first".
Anywhere operations: a paradigm shift
Having Anywhere Operations involves more than just remote work (or operation). This paradigm requires changes in technological architecture, management procedures, security and governance to offer a transparent experience. Within these procedures, the use of tools and models that facilitate customer and employee engagement (e.g., gamification, corporate social networks, etc.) gain importance.
Anywhere operations are comprised of five blocks:
Collaboration and productivity: Workflow collaboration, videoconference meeting solutions (that are as natural as possible), cloud-based work, and smart workspaces.
Secure remote access: Intelligent multifactor and passwordless authentication, Zero Trust Network Access (ZTNA), Secure Access Service Edge (SASE) and Identity as the new security perimeter.
Cloud and Edge Infrastructure: Distributed Cloud, IoT, API gateways, Artificial Intelligence at the edge, and secure self-adaptive networking based on smart SD-WAN networks.
Quantification of the Digital Experience: Digital experience monitoring, workplace analytics and remote support.
Automation to support remote operations: Endpoint management, SaaS (Software as a Service) management platforms, self-service, and zero-touch provisioning.
The role of anywhere operations in the  future challenges
Anywhere operations pose new challenges in security management, telecommunications governance, and identity management of both employees and customers, to continue offering the highest levels of service and dilute the differences between face-to-face and remote work. Businesses will need to deploy management solutions that can meet the goal of a decentralized business network, lower ecological footprint, and provide teams with cohesion and transparent communication from practically any location. And the inevitable outcome will be more flexible and resilient organizations, and greater ease in recruiting new talent by not being limited to a specific area.