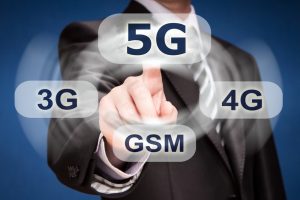 According to forecasts, commercial testing of 5G networks is set to begin in 2020. But, in the meantime, LTE-Advanced PRO already allows you to use technologies that will be included in 5G.
LTE-Advanced PRO, also known as 4.5G, is the next evolution of 3 GPP prior to 5G.  But it does more than just push LTE capabilities closer to 5G. It also represents an integral part of the 5G mobile network, providing many essential services for the 5G experience today.
The following graph describes the evolution of LTE towards 5G as regards maximum data transfer speeds.
LTE-A PRO enables new features already existing in 4G:
New LTE-A PRO capabilities
Ultra-low Latency. LTE networks support latencies of up to 50 ms (RTT) and in LTE-A PRO this latency is reduced to under 10 ms. This allows you to have new applications, such as remote medical operations or remote vehicle repairs and diagnostics.
Improved reliability (URLCC).
High speeds (>8 Gbps).
Evolution of 4G to LTE
Massive MTC (LTE-M/NB-IOT). Multiple low speed devices on the same channel.
V2X (vehicle-to-everything). V2X allows vehicles to be connected to everything, including to each other (V2V), to pedestrians (V2P), to roadway infrastructures (V2I), and to the network (V2N).
LAA (unlicensed spectrum). Spectrum availability is a problem for LTE. There are unlicensed frequencies (2.4, 5 GHz) that, for example, are currently used in Wi-Fi networks. LAA supports the simultaneous use of licensed and unlicensed spectrum bands to make the most efficient use of the available spectrum. LTE Wi-Fi (Link) Aggregation (LWA) has been defined and allows aggregating data from LTE bands and Wi-Fi networks.
Location positioning and tracking.
Coordinated multi-point connectivity.
D2D Personal Area Networks (device-to-device). A specific area of the R14 release focuses on D2D and device-to-device relays to implement IoT and wearables. This takes into account how remote MTC devices, such as wearables, connect to other devices, which in turn connect to the access network.
Carrier aggregation. Allows a larger number of carriers from different bands to be included in the same connection. Over the years, more bands have been added to LTE technology, from 700 MHz to 3600 MHz. To be able to use all of these bands at the same time, the concept of Carrier Aggregation was introduced in previous releases. This allows several frequency channels to be added to the same connection. LTE-A PRO aims to add up to 32 frequencies of 20 MHz each (previously only 5 frequencies), which would enable speeds of over 3 Gbps per connection.
Massive MIMO. LTE networks use 2×2 MIMO where user speed can be doubled in good radio conditions. LTE-A PRO introduced the concept of Massive MIMO or Beamforming (establishing up to 16 different channels per station) which increases data speeds by up to 250% compared to conventional LTE networks.
The superhighway technologies
LTE-Advanced PRO uses several techniques to maximize the capacity of the available radio spectrum. While the technology that encompasses LTE-Advanced PRO is rather difficult to explain in summarized form, we will now provide a simple explanation of how using these techniques together in LTE-Advanced PRO can achieve Gbps transfer speeds. We are going to use an analogy to people being transported on roads.
Let's start with the following assumptions:
a) Basic LTE technology => (cat-3) 100 Mbps DL, 50 Mbps UL
b) Passengers = data
Imagine that the basic LTE technology is a single lane road where vehicles that transport passengers (data) circulate.

Carrier aggregation
For our carrier aggregation technique example, it is similar to increasing the number of lanes on a highway. More carriers mean more lanes and, therefore, greater passenger transport capacity.

There are a number of carrier aggregation methods available:
Intra-band aggregation with contiguous carrier components
Intra-band aggregation with non-contiguous carrier components
Inter-band aggregation with non-contiguous carrier components
Unlicensed Band
The effect is similar to implementing service roads on our highway, along which we can send part of our traffic.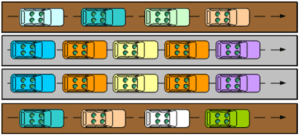 4×4 MIMO
Including radio frequency systems that support 4×4 MIMO would, in our example, be like superimposing one motorway on top of another.

256 QAM modulation
In this case, 256 QAM modulation allows increased data capacity without increasing bandwidth. In our example, this would be like having vehicles capable of transporting more people. In our example, we have included buses, thus allowing more passengers to be transported along the same route.

The implementation of all these technologies will allow both LTE-Advanced Pro and 5G to exceed Gbps transfer speeds.
Teldat's cellular IP routers, both generic and vertical market (such as transport or energy sector) devices, support LTE-Advanced PRO (Cat 13) radio modules.
We also cover all the available bands worldwide for this technology. Because at Teldat we are at the forefront of technology and are here to bring the future to our customers.