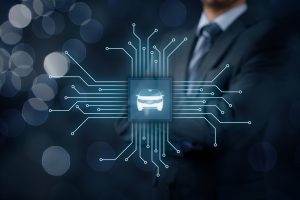 One of the most talked about concepts in the technology industry today is the Internet of Things (or as it´s also known, IoT). Still in its infancy, the IoT phenomenon spans many áreas  from everyday objects and the automotive sector, to its integration in cities giving rise to Smart Cities.
In short, the Internet of Things is based on the interconnection of different objects by means of small networks and new technologies which enable these objects to fully interact with each other and with us. It also involves the ability to collect, analyze and distribute large amounts of data so that they become sources of information and knowledge. In the future, everything from luggage, furniture and biosensors to household appliances, vehicles and just about every object imaginable will be producing continuous streams of data. And this will create tremendous benefits for businesses, such as optimized supply chains, cost-effectiveness, enhanced consumer experiences and improved safety, among others.
As IoT technology emerges in our society, we can talk about two major areas: the automotive sector and Smart Cities.
IoT and the automotive sector
There are many IoT innovations that can be applied to the automobile industry.
On the one hand, the introduction of new ideas to the traditional concept of a car is opening up new avenues for manufacturers. We are at the beginning of a new era, where we will see a revolutionary new way of driving and interacting with the environment around the vehicle: the smart, connected car.
Many large companies are working in this field to build a fully functioning self-driving car capable of circulating on city streets. Among the many areas of development in this sector are vehicles that can drive themselves without human intervention even when there are no lights, technologies that can avoid dangerous situations and detect collisions that a human driver would find impossible to avoid, information and entertainment services for drivers and passengers, applications for connected car drivers or custom driving patterns that help us to better understand driver behavior or analyze what happened in the event of an accident. The aim of all this is to produce more efficient vehicles that improve safety, provide better driving experiences, reduce congestion and save on fuel.
Going hand in hand with these transformations, public transport is also evolving thanks to IoT. Trains and buses are able to send and receive real-time information about their location, speed, route, driver and the number of passengers they are carrying, enabling public transport users to get real-time information about where their bus or train is, and allowing bus and train companies to improve their operations and adopt methods to help them control and optimize their fleets. These new technologies are even being applied to adverts inside the buses and trains, as well as to video surveillance and security systems.Â
Smart Cities
As part of the Smart Cities environment, a city is managed more intelligently by being connected. Adding smart IoT systems to services such as garbage, lighting, traffic regulation and emergencies or irrigation systems has numerous advantages: better air quality, more ecological sustainability and considerable cost savings for those cities that employ them.
And once the first connected cars start to circulate in these cities, the number of IoT sensors and objects will multiply. On the one hand, an ensemble of sensors in our cars will gather data on speed, acceleration, temperature, lights, tire pressure, load level, pavement condition, pattern recognition, cameras, GPS, etc. On the other hand, new elements will appear in the cities to interact with them, such as markers to track position, lights that vehicle software can recognize or smart signs.
Without a doubt, we stand before an entirely new concept of vehicle and city. At Teldat we have been developing in-vehicle and smart grid communications platforms for some time now, allowing them to stay connected to new cutting-edge technologies at all times.