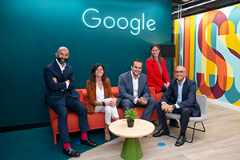 In a bid to meet the growing technology demands of Teldat's corporate customers, Teldat is leveraging Google Cloud solutions to enable high-performance network connectivity and cybersecurity with a Secure Access Service Edge (SASE) Cloud native architecture on Google Cloud services.
Digital business transformation has ushered in a demand for greater agility and scalability with reduced complexity. Companies now find that they need to provide consistent, secure and globally available access to applications and services, regardless of where users—be they employees, customers, or partners—are located or which devices they use. Teldat's SASE solution offers enterprises an entirely new model for connecting users and devices that is fast, flexible, simpler, and more secure.
Thanks to Google Cloud's edge points of presence (PoP), businesses will have the ability to intelligently manage connections at internet exchanges and optimize connections, applications, and services to ensure low latency. Organizations adopting Google Cloud and Teldat's solution will gain the speed and agility needed to transform to a digital future.
As part of this agreement, the two companies are setting up a joint research centre which aims to be an AI hub of excellence based on the latest developments in edge computing and federated learning. Thanks to Google's Coral TPUs and Teldat's SASE Edge technology, we will create a Networking and Cybersecurity Federated Data Centre for enterprises seeking to enrich their machine learning models with other entities without compromising data confidentiality.