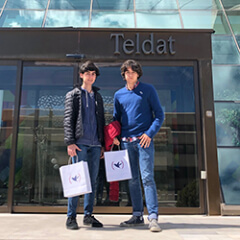 Teldat has taken part in Maristas San José del Parque school's "working with you" programme, whereby the families of students in their second year of high school take students to their workplaces so they can gain real life experience in the world of work.
Two students, Pelayo and Javier, came to Teldat. They had the opportunity to talk to various members of Teldat's R&D&I department and attend meetings and work groups – especially focused on our leading products such as SD-WAN. Their day started in the server room where they were able to chat with cloud applications engineers, software engineers and our hardware design manager.
The students attended several meetings, including one of our daily SD-WAN group meetings. They also undertook some of the tasks that are usually carried out in Teldat's R&D&I department. All in all, it was a fantastic experience for Pelayo and Javier. We hope this experience has helped to clarify their professional/vocational future.