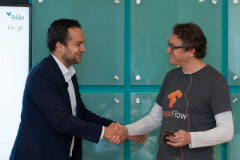 The "Google Day" held on April 21st at Teldat's headquarters inaugurated the Artificial Intelligence Center of Excellence by both companies. The agreement signed between Teldat and Google Cloud provides large companies with solutions for digital transformation, Artificial Intelligence and cybersecurity.
The event consisted of a day-long talk by Israel Olalla, Customer Engineer Manager at Google Cloud, for Teldat's R&D and Product teams. To close the event, the Teldat and Google Cloud teams enjoyed face-to-face networking with a small cocktail in the hall of the Teldat headquarters.
Antonio García Romero, Deputy CEO at Teldat, opened the session by welcoming attendees and explaining how Teldat applies Artificial Intelligence to the design and development of theirtechnological solutions. Romero explained, "I visualize a time when enterprises' networkingand cybersecurity needs will be managed by Artificial Intelligence Systems. Our IT infrastructure will become the town for the global village of tomorrow."
Israel Olalla, Customer Engineer Manager at Google Cloud, spoke about the most common algorithms used in the cloud, among other interesting and enriching topics. Olalla shared, "It's amazing to see how collaboration between engineers together in a room can create spaces for ideas to become new solutions or technologies."
Both Teldat and Google Cloud define this event as a success. Looking towards the future, Teldat's SASE technology will include Google's Coral TPU. Together, this technology will create a Federated Network and Cybersecurity Data Center for companies wanting to enrich their Machine Learning models with other entities without compromising data confidentiality.
Click here to watch a video about the event.
Click here to see the event photo album.