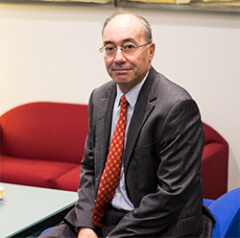 Ignacio Villaseca, the Teldat CEO, is interviewed by Elite Growth of the London Stock Exchange Group. He explains our identity, history, values, USP and our strategies for growth and internationalization, as well disclosing what being part of the Elite Growth project means for Teldat.
The interview illustrates how Teldat, which was founded in the 1980's by a group of engineers to apply the then latest technology to the emerging packet-switching networks, has evolved over the years to be one of the few brands in the world to survive several major shifts in the enterprise communication industry and compete head to head with a variety of global leaders.
Ignacio carries on defining, how Teldat currently provides the enterprise market with a compelling SD-WAN solution that responds to the modern paradigm of enterprise networking, and Teldat's solution uniqueness in comparison to other SD-WAN solutions.
He goes on to point out the challenges that the future now holds for Teldat. As Teldat has experience in successful repositioning, he sees the company totally capable of continuing to become a relevant global player in the enterprise cloud networking arena.
Finally, business internationalization and our most important geographical markets are discussed, as well as the unique opportunity that being part of the Elite Growth project offers Teldat to continue our successful expansion path.