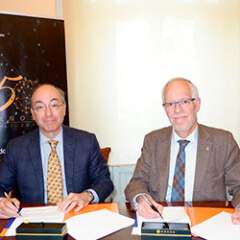 Teldat and the Official College of Telecommunication Engineers (COIT) have renewed the agreement between the two organizations, underlining both sides' commitment to develop a joint action plan, the execution of which will involve the establishment of various programs, projects and activities. 
The signing ceremony was attended, on the part of Teldat, by its President Antonio Garcia Marcos, Ignacio Villaseca, the CEO of the company and Emilio Lanuza, director of institutional relations; and on the part of COIT, by Eugenio Fontán, dean and president of COIT. Teldat's executives highlighted the importance of incorporating talent and technological knowledge into the company and of encouraging corporate spirit and cooperation among telecommunications engineers.
Also underlined was the importance of the "Smart Railway" working group (created by COIT) as the linchpin in developing proposals for both the Spanish rail transport sector – especially important because of the country's high-speed network – and overseas ones, where Spanish technology is present in many countries worldwide. Such is the case of Teldat, whose products and solutions have been implemented in railway projects in Spain and the Middle East, among other geographic regions of the world.
This agreement is confined within the framework of agreements concluded by COIT to create an important ecosystem of national and international alliances with organizations (companies, congresses, universities, etc.) to represent and promote the activity of telecoms sector associations.
The photo shows the agreement signing ceremony with Teldat's CEO Ignacio Villaseca (left) and Eugenio Fontán, the dean and president of COIT.