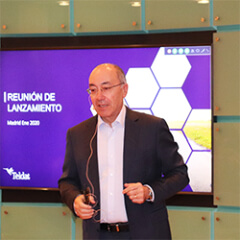 The Teldat Sales Regions organized their 2020 Kick Offs in the Madrid Head Office. Antonio García Marcos, Teldat President, gave an opening speech. Apart from congratulating the Teldat team for the fantastic results achieved in 2019, he mentioned that this year will be Teldat's 35th anniversary and what this will mean. He spoke proudly of how far Teldat had progressed from its initial start-up position, and how we had grown over the years within the demanding telecommunications market. Hard work, a highly skilled workforce, enthusiasm, as well as a huge level of flexibility were according to Antonio vital in our success. He also reminded the audience that, Teldat is virtually the only European company left in our current market segment, in which we compete against the larger American and Asian competitors.
Ignacio Villaseca then took the stage to explain in more detail the important results achieved in 2019. Not only in revenue but also our solid financial situation which had enabled Teldat to invest strongly in more R&D&I, vital for our company to extend itself within the SD-WAN market and continue our plan to expand into more segments, ecosystems and more geographical areas. All this, among other issues has meant that Teldat has been well positioned by top ranked market analysts.
Andres Monterrubio, the IoT, Mobility & Utilities Business Unit VP and his BU managers addressed the audience on the new market trends within Smart City related areas of business, such as Smart Grid, Smart Waste, Smart Water and more. Andres stressed how Teldat's Smart solutions had a competitive advantage in comparison to its competitors, in that Teldat can apply our SD-WAN solutions to IoT, Mobility or Utility products.
Andre Kock, the Media Gateway Business Unit VP and his managers transmitted to the sales regions all the different improvements and new launches that would take place in 2020 and the advantages that these will bring their current and potential clients. They even went into how they foresee the market and product development over the next couple of years.
Francisco Guerrero, the SD-WAN Business Unit VP and his managers came on to explain all the key points related to SD-WAN and how the sales regions should work on transmitting in depth, all the advantages that the Teldat SD-WAN solutions have over its competitors. They divided the allocated time into SD-WAN for corporate and secondly for SME solutions, as Teldat has SD-WAN products orientated to both market segments. Issues related to technical, product marketing and sales were tackled.
See a selection of photos taken at the events.
If you want to see photos taken at the two Kick Offs, click here to see the Iberia photo album or the LATAM photo album.