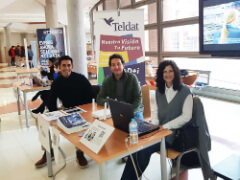 Teldat once again attended this commemorative event to talk about new business ideas and technological projects with their HR team, chaired by Raul Arrieta and Beatriz Carillo Moriana. Through a stand that we have located at the University we wanted to inform the new engineers about job opportunities and keep conversations about some aspects related to technology and the future changes in this sector.
Raúl and Beatriz offered to those students the possibility to know better Teldat and all the elements that are present behind it. Teldat has many ways where you can develop as a professional like the growing of our 5G network, cybersecurity or SD-WAN solutions. We think that with effort and knowledge everything is possible, for this reason we are looking for great persons to create a better future world.
Our coworkers gave a presentation to the audience to explain all details about our technology where the students could ask any question and suggest new forms or ideas to improve our technological solutions. Each word, each sentence could be a possible solution to introduce in the next years.

We are proud to be part of this wonderful event one more time, to be closer the University and to be lucky to see so much talent in one place.